Green Bean Casserole With Bacon and Wine
lazyme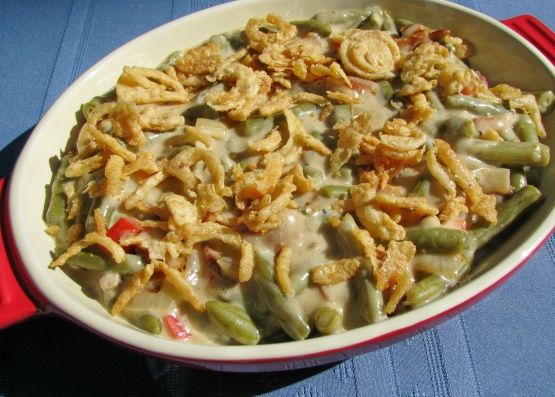 I tried this green bean casserole variation for Easter one year and loved the kicked up flavor from the bacon, wine and soy sauce. I hadn't cooked this casserole in years, but scoured the web, found this recipe and we devoured it! UPDATE: I corrected this recipe to adjust the cooking time and temperature so the recipe could be doubled easily.

I'm SO GLAD I found this again! I made this recipe years ago when it was posted on "recipezaar" and I panicked when I couldn't find it for this Thanksgiving. Everyone loved when I made this so I am thrilled to be able to make it again! Superb recipe!
Preheat oven to 350 degrees Fahrenheit. If beans are fresh, trim the ends and cut into bite-size pieces or leave whole.
Fry bacon in a skillet over medium-high heat until crisp. Drain on paper towels, crumble, and set aside.
Drain most of the bacon grease, and place pan over medium heat. Add the onions and bell pepper; cook and stir until tender. Stir in the wine, scraping up all the bacon bits from the bottom of the pan.
Mix in the butter, milk, soup, and soy sauce. Season with pepper but add salt sparingly, if at all. Stir in the green beans and bacon until evenly coated. Fold in cheese, then transfer to an 8x11 inch baking dish or oval casserole. Sprinkle with as many French fried onions as desired - you can stir some in, also.
Bake uncovered for 30 minutes in the preheated oven, or until heated through and sauce is bubbly.