Green Bean Casserole - No Canned Onions or Soup
PaulaG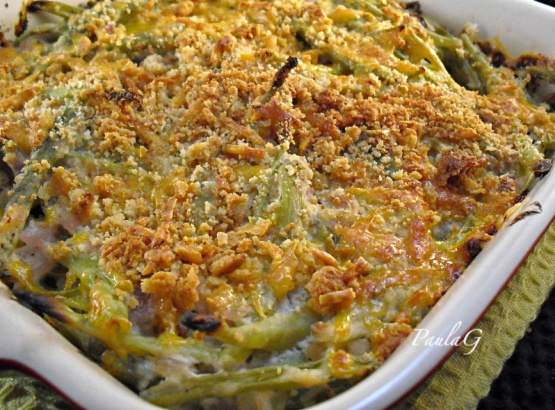 If you're looking for an update to the classic green bean casserole, this is it. It's very fresh tasting. Adapted from a Penzey's spice catalog from several years ago. The cooking sherry is optional, but it really adds to the flavor.
Top Review by PaulaG
This makes such a nice alternative to the creamed soup recipe. Combining the cheese and breadcrumbs produced a beautiful crust. The sherry was replaced with white grape juice and Greek yogurt was used in place of sour cream. The green beans were fresh that were split and then blanched prior to combining with the other ingredients. This makes a great make ahead dish. It was assembled in the morning and then placed in the oven about 20 minutes before Recipe #123302 was done. Made for Cleaning Up In the Diabetic Forum event.
Cook green beans according to package directions.
In a medium saucepan over low heat saute onions, thyme and parsley in butter for 5 minutes.
Blend in salt, pepper, flour and lemon peel. Add sour cream and sherry, and cook on low for 3 minutes.
Grease a medium/large casserole dish with butter, add cooked and drained beans to the dish. Pour the sour cream and spice mix over the beans, stir gently to coat. Sprinkle grated cheese and bread crumbs over the top of the dish.
Bake at 350 for 20 to 30 minutes, until topping is lightly browned.