Pam-I-Am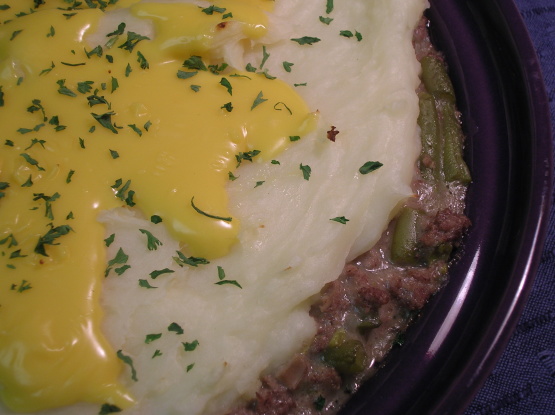 Delicious casserole. Different than the one with the French's onions on top. Main Course.

This was so good! I wanted to hog the entire dish to myself. So did my oldest son. My youngest son licked his plate. I actually wanted to go buy the ingredients again so I could make a second batch. This is definitely a 4 person, single serving recipe for us. We didn't make anything to go with it figuring it had the four food groups, but we really needed side dishes. I will double the recipe next time for our family of soon to be 6. I added garlic powder, salt, pepper and dried minced onions to the beef. Between the potatoes and the cheddar, I sprinkled parsley. Oh, I also used Bob Evans pre-made mashed potatoes, which I heated for 2 minutes first to soften. The whole thing was heated through in 7 minutes in our 1100 watt microwave. This will be a go-to dish when the baby is born! Thank you!
Brown hamburger. Drain fat.
Add green beans and cream of mushroom soup. Mix well.
Put in microwave-safe casserole dish.
Cover with prepared instant mashed potatoes or use real if you have the time.
Grate cheese on top.
Microwave for 5 minutes or until cheese is melted.