Green Bean and Tomato Salad
PaulaG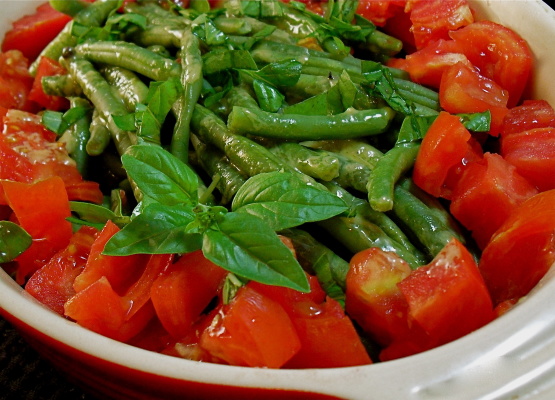 Can't remember where I got this one but I love it more everytime I fix what could be considered a salad or fresh vegetable side.

OMG, If you have beans, basil and tomatoes fresh from the garden, don't pass this recipe up. It was SO good! Only thing I changed was I went a little lighter on the oil and so my dressing was a bit watery (which only resulted in my wanting to drink it out of the bottom of the bowl when I was done...ha-ha!)
Combine dressing ingredients in food processor and pulse until blended.
Boil and ice green beans.
Place prepared beans on platter surronded with tomatoes and pour a generous amount of dressing over beans and tomatoes.
Garnish with a few basil leaves and serve.