Green Bean and Potato Soup
lets.eat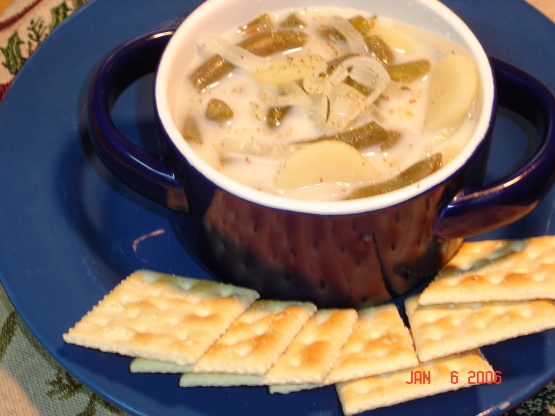 When my DH and I were first married I made this for him. He thought this was the most VILE tasting stuff he had ever had, and I was to NEVER make it again!. I was so suprised our marriage wasn't annuled. As you can see-I did make it again (nearly 20 years later), but only so I can enjoy it, and post it here. My DH smirked at me and did some eye rolling when he saw me preparing this, and knew that I wouldn't dare pack it in his thermos. As a child I grew up on a farm-every animal imaginable, 17 acres or so of blueberries(child labor), and of course a huge vegetable garden(more child labor). My mother being the thrifty sort thought this up and we had this frequently. Cheap meal for 6 children. One of those 'Back to the Basics' recipes. No measuring is really required. This is at its Absolute BEST with fresh green beans, and beautiful squeaky new potatoes(with the skins left on). Of course this can be made with canned or frozen green beans, or canned potatoes. Easily made for 1 or 2 or for potlucks.

I've been looking for this recipe for a long time--my grandma used to make it. I don't know if it's memories of my grandma or if this recipe is truly good, but I love it.
1

lb green beans, ends removed and broken into bite size pieces

1

lb new potato, scrubbed, skins left on and quartered

1

medium onion, sliced into thin strips
1⁄2 teaspoon thyme (optional)
salt and pepper
In a large saucepan add green beans, potatoes, onion and thyme if desired. Add enough water to cover and bring to a boil. Reduce heat and simmer until vegetables are tender add just enough milk to turn it milky, heat until milk warms. Do not boil. Serve in bowls GENEROUSLY sprinkled with salt and pepper.