Green Apple Spinach Salad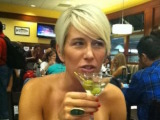 My aunt Karen gave this to me and it is always a hit. So simple, yet a little different and the dressing is GREAT.
Directions
Place spinach, apple, almond and blue cheese in salad bowl.
To make dressing, combine oil, vinegar, soy sauce, honey and dijon and garlic in a food processor (or shake in a jar like i do) and emulsify.
Pour over greens and toss.