Green Apple Salsa - the World's Greatest - by Far
-d1473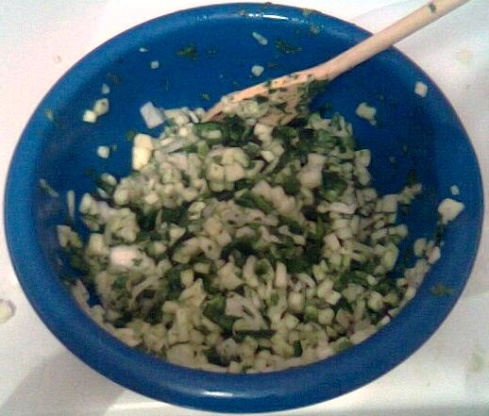 I had to come up with an apple salsa recipe in class. I pulled this one out of thin air, and it came out extraordinarily good! In fact, when it comes to apple salsa recipes, this is by far the world's greatest.

Best Salsa Ever!! I made this to bring to work and I could not keep enough copies of the recipes!! Everyone was asking for it!! Even the VP!!!
Squeeze as much juice and pulp as possible out of the lemon and lime into a bowl.
If you are feeling ambitious, use some of the zest as well.
Add the honey and mix until uniform, set aside.
Peel, core and dice the apples to 5mm (0.2 inches) While doing so, add the finished dices to the juice/honey mix so the apple bits don't turn brown.
Peel and dice the onion to the same size as the apples, add this to the mix.
Remove the stem and deseed the poblano. Dice to the same size as the others. Add to the mix.
Finely chop the cilantro.
Mix everything until uniform. If all goes well, it should have an eerie green color suitable for St. Patrick's day.
Serve with chips or over lightly seasoned fish or pork.