Green Angel Cake With Fluffy Fruit Flavor Frosting
FlowrBx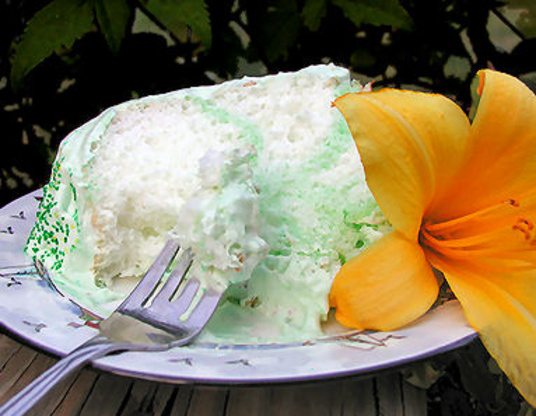 If you like angel food cake, you will like this wonderful light dessert, that looks pretty too. I got this recipe from a Jello insert in a woman's magazine in the '80's. You can use any flavor Jello you like, we like lime the best.

I left my bundt pan at my mom in laws, so I made it in a cake pan, very cool citrus flavor, great for summer, but not that great for fall or winter. Thanks for the recipe.
Prepare cake mix as directed on package, folding gelatin into 1/3 of the batter.
Alternately spoon batters into ungreased 10-inch tube pan.
Zig zag knife through batters.
Bake on lowest rack at 375° for 40-50 minutes until cake springs back when lightly pressed.
Turn pan upside down over funnel or bottle to cool completely.
Remove from pan.
Frost and garnish with lime slices if desired.
Chill Frosting: Dissolve 1 pkg lime Jello in 1 cup boiling water.
Chill until slightly thickened; blend in 1 container whip cream thawed.