Green and White Linguini With Smoked Salmon and Mushroom Sauce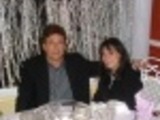 I couldn't resist this, since it combines some of my favorite foods (pasta, smoked salmon, and mushrooms).
Directions
Heat 3 T. butter in a small saute pan. Saute shallots until translucent. Add mushrooms. Turn heat to high, add salt and pepper, and cook until tender.
Lower heat; add salmon and stir rapidly. Add half the cream and continue cooking until thickened and reduced by half.
Meanwhile, bring a large pot of water to a rapid boil, salt water, and add linguini. Cook until al dente, about 2-3 minutes; drain.
Place a serving casserole over low heat. Melt remaining 3 T. butter, then add rest of cream. Combine. Add cooked linguini, and stir constantly while mixing in about half of the salmon and mushroom sauce. Add grated cheese and stir well.
Remove from heat and pour remaining sauce over linguini. Serve immediately.
Most Helpful
Lovely recipe. DH and I really enjoyed this. I halved the recipe for the 2 of us and still had leftovers. I used baby bellas and white linguine. Thanks for sharing!
This was great! Made almost exactly as written except for the green linguini, I only could get white and I couldn't find porcinis so used portabella and chantrelles instead. I wouldn't bother with the more expensive mushrooms, the flavor of the mushrooms was usurped by the great flavor of the smoked salmon. The mushrooms are needed, but I would probably just used crimini if I can't find the porcini. My husband thought it could have used a touch of garlic. I could see that, but only a clove or so. Thanks Jackie!
Delicious! We absolutely loved this dish. I made the sauce all in one pan and tossed everything with the pasta instead of doing the 1/2 and 1/2 thing and it worked perfectly. I also added some capers (everything is better with capers!) to my plate at the end and that was quite tasty as well. I will definitely be making again, thanks for posting this winner!