Green and Red Tomato Rice
Linajjac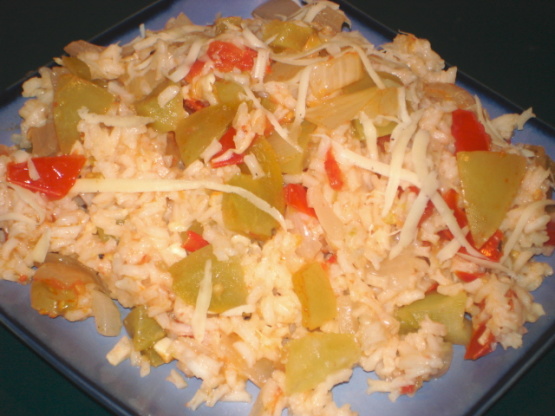 Another recipe from my favorite Italian cookbook "The North End Italian Cookbook". I'm dying to try this recipe but my green tomatoes are still to young.

This was very good. But we felt it was missing something. I stirred in a nice portion of parmesan and that made this rice perfection! I used four cloves of garlic. (we love garlic) My green tomato wasn't soft. But that didn't seem to matter, as it got soft as it cooked.. We are looking forward to having this recipe, again & again. A great recipe to use those green garden tomatoes! Thanks for sharing. :)
Add oil to a medium size sauce pan.
Add chopped vegetables and saute over medium heat until tender.
Add 2 1/2 cups water, salt and pepper, cover and bring to a boil.
Add rice, stir and cover.
Reduce heat and simmer 15 minutes.
Remove pan from heat and let sit until liquid is absorbed and rice is fluffy.