Satyne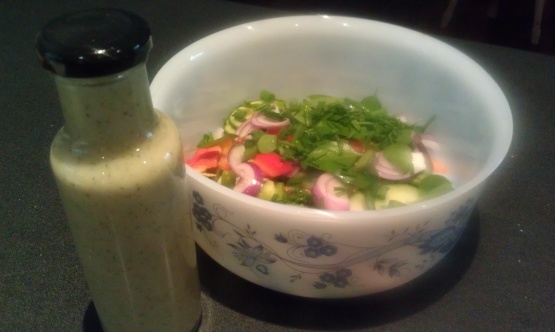 I use this on salad and I will add things like feta cheese, kalamata olives, pepperoncini, etc. It even tastes great on ordinary tossed salad or over grilled halloumi cheese.
Use half of the salt to start. I had to make another batch salt free because the first batch had too much salt. Still debating if it need a touch more sugar. I will work with it a little more but I and hopeful that this will replace the Athenos Greek Vinaigrette that Sam's no longer has in stock. I even used the empty bottle to refill with a quad batch. Made another quad batch with white wine vinegar this time. Just a little less tart. Added just a small amount more of sugar and and half of the salt. Thanks for putting the lemons from our tree to use. I may try a 50/50 batch with white and red wine vinegar next time. I will continue to make this when there fresh lemons on the tree. Now what to do will all of the limes I will have in few weeks.
Combine vinegar and spices in a blender.
Slowly stream oil into mixture as it blends remove the little cap and pour through the hole), until the dressing emulsifies.
Serve over mixed greens or salad of your choice.