Rita1652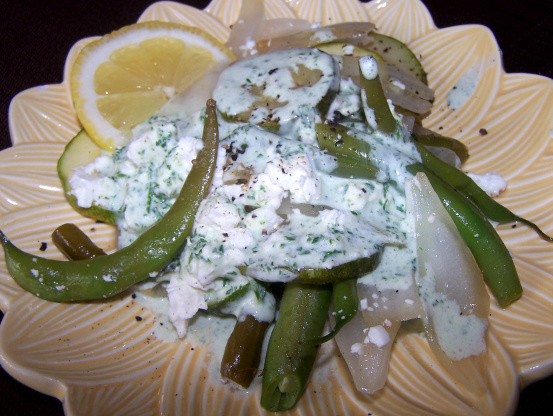 Yum, I luv this super tasty yet very easy to make veggie dish as a main course. It features green beans, zucchini and onions in a zesty yoghurt sauce and feta cheese.

Light and refreshing! Made with garden picked fresh string beans so I didn`t cook in water. Just added in along with the zukes. Didn`t need broth so that was omitted. For the herbs I use Greek oregano, parsley, thyme. Plated and just poured the dressing over it. Didn`t measure a thing just went with it. Thanks!
Prepare beans according to package directions in salted water. Drain.
Meanwhile heat oil in a large skillet and sautee onions, garlic and zucchini until lightly browned. Add broth and let simmer covered for about 4 minutes. Add beans.
For the sauce combine yoghurt, herbs and lemon juice. Pour into two small serving bowls.
When beans are heated through, sprinkle feta cheese on top of the veggies and serve with the yoghurt sauce and the bread on the side.
Enjoy! :).