Jubes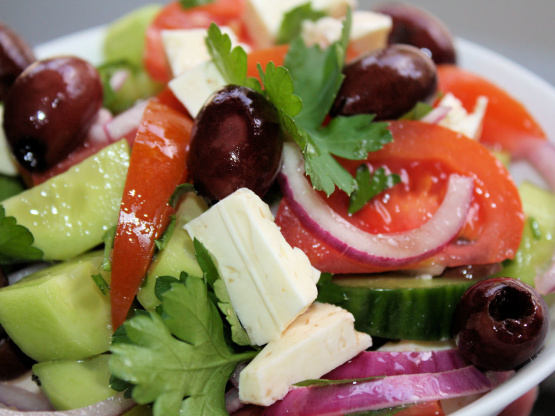 From Simply in Season. This salad is wonderful when you can get fresh ripe juicy tomatoes from your garden.

Even though I halved this recipe, I used only 3 tomatoes (1 per person), but kept the amounts of green pepper, onion and cucumber the same - so basically, I just reduced the tomato.LOL (maybe we have way larger tomatoes?) Used both mint and parsley and kalamatas and feta. We can live on this salad and its variations, all year long.
Combine tomatoes, onion, pepper & cucumber in a bowl.
Combine fresh herbs, olive oil, vinegar and garlic.
Pour dressing over vegetable and toss lightly.
Salt and pepper, to taste.
Garnish with cheese and/or Kalamata olives.
Garnish with sprigs of fresh herbs if desired.