rpgaymer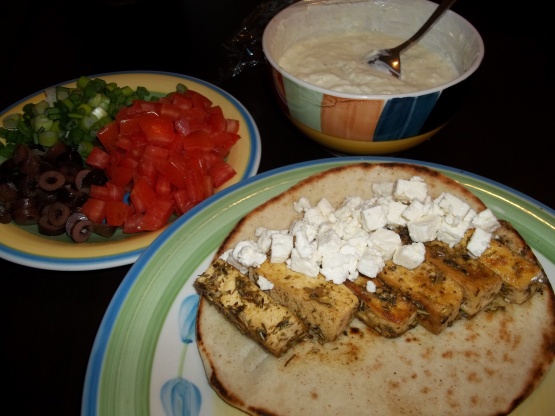 Made up as a great vegetarian gyro! If you are not vegetarian, this marinade/recipe would be fabulous with chicken as well.
Loved this, although I did make a few changes. I did not mix the Feta, tomatoes, and olives, and instead put them on a plate along with some chopped green onions so everyone could take as much as they liked. I also just got regular, pocket-less pitas which I prefer. The tofu marinade is great; the thyme almost gives a slight meaty flavor to the tofu. [Made & Reviewed for Please Review My Recipe]
drain the tofu and press for 30 min by putting between paper towels with a large weight (book or heavy pan) on top.
Prepare the marinade by mixing oil, broth, pesto, garlic, oregano, thyme, rosemary, lemon and salt and pepper to taste.
cut the tofu into thin strips. Marinate the tofu for 1hr minimum, tossing a few times to make sure it is evenly distributed but being careful not to break pieces.
meanwhile, combine cucumber, tomato, olive and feta in a bowl.
Take the tofu out of the marinade (reserve marinade) and fry over very high heat in a non-stick skillet until darkly browned (very important that it is non-stick!). Turn off heat and immediately pour extra marinade over tofu. The pan will be very hot and the marinade should mostly cook off immediately,.
Meanwhile, heat up pitas in oven or microwave. Cut in half and fill each one with tofu, tzatziki, and veggies.