Nimz1466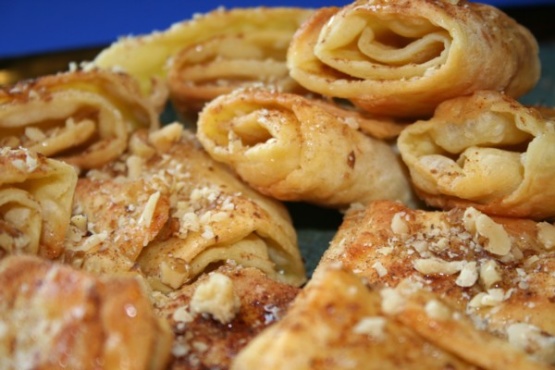 These are the best honey rolls Posted for ZWT II. Taken from a cookbook my late DM purchased at a local Greek Festival, written by members of the Local Greek Orthodox Church.

Top Review by Dasha
This recipe was an OK for me. First of all, mixing the butter in after the flour was a mess but I finnaly got it to work. 2nd of all, after frying the thipples, they instantly took shape and there was no time to fold them. Last of all, with the watered down honey syrup poured on them, it caused them to be a little soggy. I think just sprinkling with powdered sugar would be a better idea. They taste good, but they have lost there "crisp" texture due to the water/honey syrup.
Beat eggs until very light. Beat in the 2 cups flour and salt. Work in the 1/2 cup of flour and a little more if needed. Dough should be soft and does not stick to your fingers. Turn dough onto a board and spread lightly with butter, working in butter with hands a little at a time. Knead dough until it is smooth and soft.
Cut dough into 4 parts. Roll one part on a floured board until paper thin, keeping remaining dough covered to avoid drying, until ready to use. A ravioli machine may be used instead of rolling. Cut into 2 x 6 inch strips.
Drop into hot oil, 365 degrees, and using two forks turn dough over immediately and roll quickly before it becomes to crisp. Fry until very lightly browned. Drain on absorbent paper. Dilute honey with a little hot water and dribble over Thiples. Sprinkle with sinnamon and finely chopped nuts.
Thiples are best eaten with fingers as they break if pierced with a fork.