Greek-Style Stuffed Eggplant (Aubergine)
awalde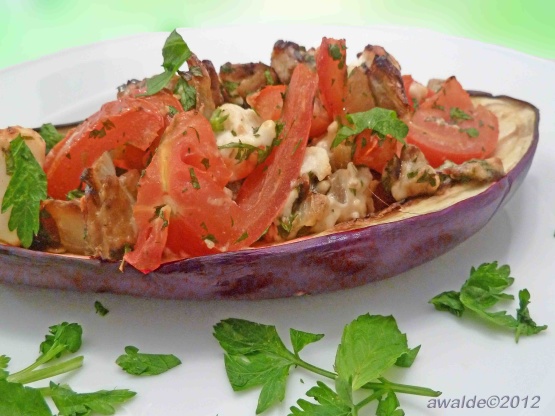 If you are an eggplant lover, then this is a must try.

Top Review by awalde
Looking for an eggplant recipe stuffed with feta, but different from mine, I found this jewel.
Yes this was delicious, easy, light and sooo beautigful.
All my family loved this very much and I was glad I prepared more than what I needed. My children will be glad to enjoy this for lunch at school.
Thanks a lot for posting this recipe!
Halve two of the eggplants lengthwise, score there pulp deeply with a sharp knife (careful not to pierce the skins).
With a grapefruit knife, scoop out the pulp, reserving it, and leaving 1/2-inch thick shells.
Sprinkle the shells with salt and pepper; invert (turn over) on paper towels to drain for 30 minutes.
Cut the reserved pulp, and the remaining whole eggplant into 1/2-inch pieces.
Transfer to a colander; toss with salt, and let them drain for 30 minutes.
Pat the shells dry with paper towels, brush them with 1 Tbsp oil.
Broil them on a rack of a broiler pan under a preheated broiler, about 4 inches from the heat for 5 minutes, or until they are tender.
In a skillet, heat the remaining 3 Tbsp olive oil over moderately high heat until it is hot, but not smoking.
Saute the eggplant pieces (that have been patted dry), stirring until they are golden.
Stir in the chopped onion and the garlic; cook over medium heat until onion is softened.
Remove the skillet from the heat; stir in the parsley, mint, tomatoes and feta cheese, adding salt and pepper to taste; stir to combine.
Divide the filling among the shells mounding/heaping it.
Broil the stuffed eggplants in a large flameproof baking dish for 5 minutes, or until the filling is bubbly and golden-- delicious!