JustJanS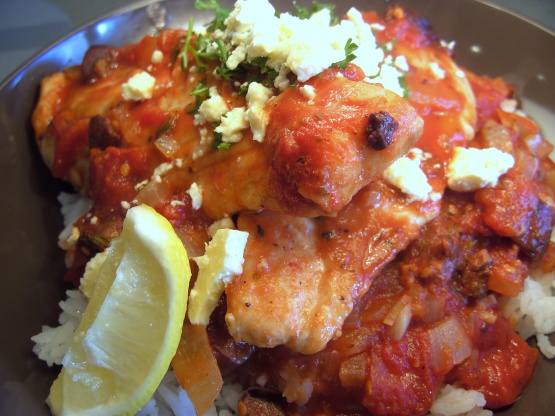 I got this recipe from the grocery store at the see food department and it's pretty good.

I'm really glad you posted this simple quick recipe and am suprised it hasn't been made before after almost 3 years on the site! I used Spangled Emperor (very closely related to snapper) we caught ourselves and added in a bit of fresh thyme as I have heaps of it growing right now-otherwise I stuck to your recipe.
1. Saute onion and garlic in hot oil in a nonstick skillet over medium-high heat 2 minutes. Stir in tomatoes, broth, olives and oregano; simmer 5 minute.
2. Place fillets in a lightly greased baking dish. Spoon tomato mixture over fillets. Bake at 425F for 10-15 min or until fish flakes with a fork. Sprinkle with feta cheese and parsley. Garnish with additional sliced black olives, if you like.