Greek-Style Roasted Chicken Legs, Potatoes and Capers
ChefLee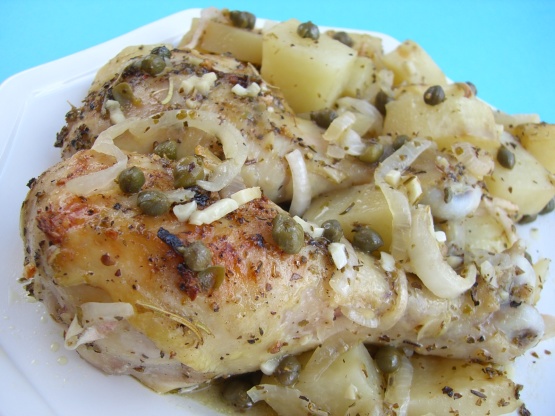 If you love Greek food as much as we do then you will love this dish --- you may omit the capers and use your choice of chicken pieces instead of all legs --- omit the chicken and reduce the chicken broth, and you have an outstanding roasted potato dish --- this also works very well using sweet potatoes in place of russets.

I tried this recipe on the recommendation from Midwestguy, and all I can say is that it's absolutely wonderful. I followed the suggestion of marinating the chicken in the olive oil, lemon juice, 1/2 cup white wine, oregano, rosemary and salt and pepper. I just used the marinade over the chicken when it was time to put it in the oven. Fantastic! After I took it out of the oven I put a generous handful of feta cheese over it. YUM! Thank you for such a great recipe!
Set oven to 375 degrees F.
Grease a large roasting pan (large enough to hold the chicken).
Rub the chopped garlic into the chicken and season with salt and pepper.
Place the chicken into the pan along with the potatoes, onions and capers.
Pour the broth over.
In a small bowl whisk together oil, lemon juice, oregano and rosemary.
Pour evenly over the chicken and potatoes.
Bake for about 1 hour and 15 minutes (could take more or less time depending on the size of chicken pieces) basting occasionally with juices.
*NOTE* if you find that either one is cooked before the other (either the chicken or potatoes) then remove to a dish and continue to cook.