Greek Style Roasted Chicken
Edesia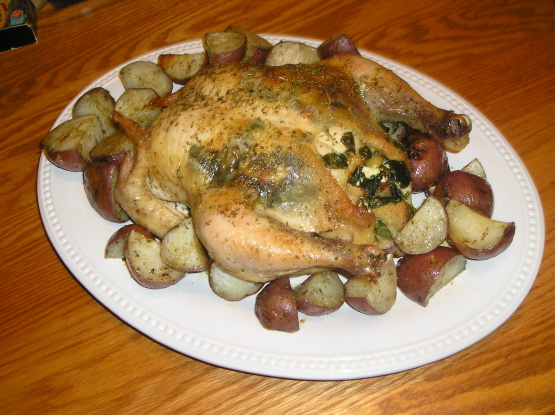 This Delicious dish was a real winner. I came up with it by combining 2 chicken recipes that I had. Fancy without a great deal of work! You can reduce the fat content by not using the olive oil and herbs on the outside, then when serving don't eat the skin! Also, it is just as yummy if you omit the ham. Haven't tried it without the feta, but I imagine that would be good as well.

++++++Sometimes there aren't enough stars! This is a fantastic recipe, easy too. I stuffed the inside of the chicken with the mix, but only put it between the skin and breast on one side (One kid hates stuffing, the other cheese, THEIR loss!) We ate this with Garlic Potatoes recipe #13380 and Green Beans with Feta Cheese recipe #23229 (both 5 star recipes as well).
Preheat oven to 325.
Brush chicken with oil.
Combine oregano, parsley, garlic powder, and garlic salt.
Rub onto chicken.
Combine spinach, feta, ham, bread, pine nuts, chives, butter, and pepper.
Slip fingers in between skin and breast, and Lightly stuff the pockets on both sides.
Lightly spoon stuffing into main cavity and neck, if desired.
Place in broiling pan, breast side up.
Roast for approximately 1 1/2 hours, or until meat thermometer reads 180 when inserted into thigh, and juices run clear.
Serve with Greek-style rice and veggies!