Greek-Style Potatoes With Lemon and Thyme
JustJanS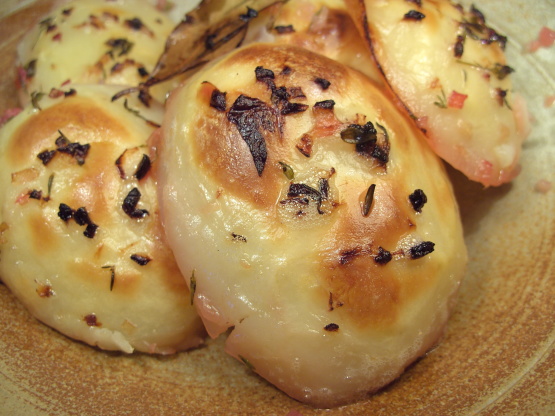 There's something about potatoes mixed with lemon juice and fresh herbs that says "perfection." This particular combination is adapted from Sally Schneider's "A New Way to Cook" and was a good accompaniment to Baked Eggplant with Feta Cheese.

We served a double batch of these to guests last night-my meat loving son voted them the best dish of dinner. They cooked up golden and gorgeous and were devoured in no time. We made no changes to your recipe apart from spraying them with olive oil spray rather than drizzling that couple of teaspoons over. That worked really well,giving them an even cover of oil. I'll make them again very soon and get a photo when I do! I made a half these again tonight (Feb 7th 2011) but used a quarter of a red onion instead of the shallot. I made the liquid mix up about half an hour before cooking the potatoes and the red onion turned the water bright pink-that's the colour you see in the photo I just posted! I'll be making them again soon and will try to get a better photo. Still yummy potatoes though!
Preheat oven to 375°.
Place potatoes in a casserole large enough to hold them in 1 layer.
In a measuring cup, combine the water, lemon juice, shallots, thyme, salt & 1 T oil.
Pour over the potatoes and nestle the bay leaf in the middle.
Roast, stirring occasionally, until the liquid is absorbed, about 1 hour.
Toss with the remaining 2 tsp oil and return to oven.
Bake 10 min longer, until glazed and golden.
Remove, discard bay leaf and season to taste with black pepper.