momaphet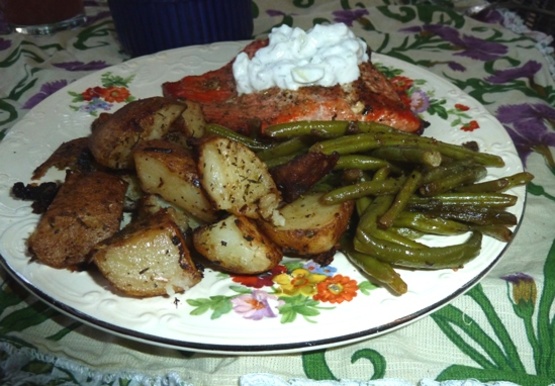 Greek Style Potatoes is a simple recipe, and the closest I can get to the real thing. The best is that it can be adjusted to your taste as you bake it. I sometimes add a little more lemon. The potatoes are moist, and great with green beans and baked chicken with a little salsa and feta on top.
These had a nice flavor but I thought too much of the seasoning ended up gooed to the bottom of the pan and clumped together on the spatula when trying to turn them and they didn't get as crispy as I like. I would probably just skip the water next time. I added oregano, and basil.
Preheat oven to 350ºF (175ºC).
In a small bowl, mix olive oil, water, garlic, lemon juice, thyme, rosemary, bouillon cubes and pepper.
Arrange potatoes evenly in the bottom of a medium baking dish. Pour the olive oil over the potatoes. Cover, and bake 1 1/2 to 2 hours in the preheated oven, turning occasionally, until tender but firm.