Greek-Style Pork Gyros Plate
gerry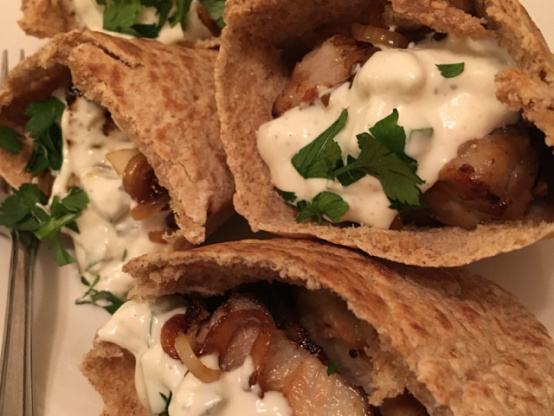 My attempt to replicate the gyros (pron: yee'-ros) I've had in Monastiraki in Athens and the islands. This isn't like the minced meat (usually lamb) kebab that we would here in the UK call a doner kebab and often eat on the way home from a night in the pub. This is what you could be served if you were eating in . . . . the alternative is to have the meat, onion and tsatziki wrapped in the bread and in a twist of greaseproof paper taken to go. This was my first attempt - and I was delighted, the belly pork has just the right amount of fat after quite a long cook on the grilling machine. I didn't have tomatoes tonight - a few slices would have increased the authenticity, but the "patatas tiganites" (chips/fries) on the side, and the mustard mayo (american-style hot dog mustard would have been good, too) were just the job.

Wow Moyni, this is GOOD!!! we have been to Crete Corfu and Cyprus many times and we really enjoy the food when we go, and I loved this when we were in all those places.It didn't occur to me that I could make it at home but this is fantastic, very authentic, well done I have loved all your recipes. Made for PAC fall 09
Remove the skin from the pork strips.
In a bowl turn the pork strips in garlic, oregano and a good twist of black pepper - leave to marinade for at least 30 minutes (more if possible).
Griddle the meat - I used our George Formby "turned out nice again" grill (a wee joke for any ageing brits there). A lot of fat will drain off, the meat needs turning so all sides are well browned and the meat succulent.
Slice across the strips to give chunks of meat ready to serve.
Brush the pitas with a little oil and cook in a hot dry non stick frying pan for a couple of minutes each side.
Assemble to serve: place a good quantity of the meat chunks on a piece of the bread, (a couple of tomato slices would work well here) top with a good dollop of the tzatziki, a good quantity of the thinly sliced red onion and put mustard on the side.
Serve with chips/fries.
A little salad garnish is pretty with this, as you can see from my photo, it can look a bit too all-brown.
Kali orexi! (Bon appetit).