Annacia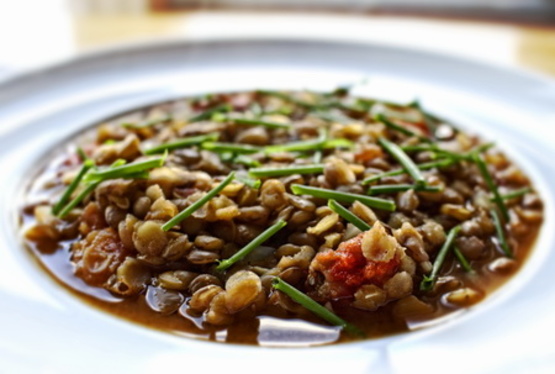 This is from "Heal Your Heart", the Rice Diet book. I haven't made it yet.

I chose to make this as I have a good lot of lentils currently on hand and I like them a lot. I knew in advance that I would need to add salt, no problem. My surprise came when I started looking for the tomato paste and couldn't find any, oops. I subbed in Chili Sauce and I think that it worked out quite well, it really popped up the flavor level. I found that, in my case, it took almost double the stated time to really cook through. I don't know but that might be because I have lentils from this years harvest from a friends farm? Be that as it may, the outcome was a tasty soup that I topped with some rough cut chives out of my yard for an early dinner.
Wash and sort lentils. Put them and 2 qts. water over medium heat.
When they begin to simmer, add everything else.
Continue to simmer, uncovered, until they are cooked and sauce is thickened, about 30 minutes.