Greek-Style Lemon Potatoes
PaulaG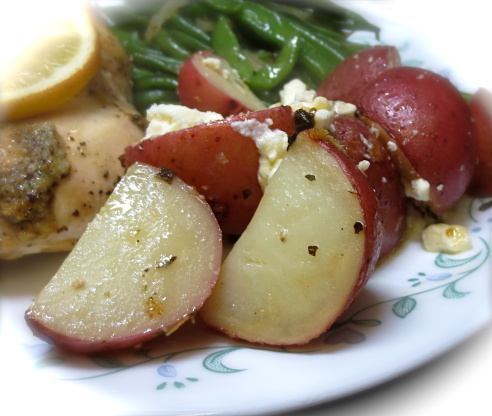 Lemon, fresh oregano, and feta to brighten up potatoes-leave skin on or off. Serve alongside grilled fish, steak, or chicken with a tomato salad. Leftovers would be good, too. TY Just Jan for helping me improve this recipe. :)

I love anything to do with potatoes and feta cheese, so I knew I would love this recipe! Beautiful flavours. I couldn't get hold of lemon basil so had to leave it out. Thank you, WiGal, for sharing this wonderful recipe, this is definitely a keeper for me!
Preheat oven to 450°.
Remember to BOIL the chicken broth.
Spray a 9- by 13-in. baking dish with cooking spray.
In a large bowl, toss potato cubes with lemon juice, olive oil, oregano, lemon zest, salt, and garlic; layer slices in baking dish.
Pour 1 cup BOILING chicken broth over potatoes and bake, uncovered, until most of the broth has evaporated and potatoes are tender, about 30 minutes.
Top with feta and bake until golden, about 15 minutes more.