Greek-Style Corn on the Cob a La Evelyn
lazyme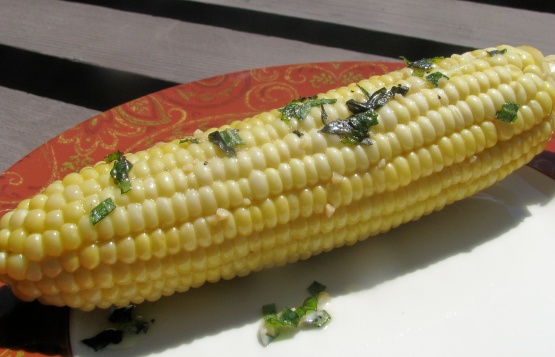 Came up with this idea on the fly for the Greek Forum recipe challenge. Old world meets New World. Opa!
This is so yummy. This is a garlic butter highlightened with fresh herbs and a touch of cinnamon and cumin. Thanks Cookgirl :) Made for ZWT9
Prepare the corn for cooking and set aside.
Meantime heat grill or bring to boil a large pan of water. (For stove top directions, read *NOTE below.).
Melt butter then stir in all the other ingredients. Mix well.(Can use a mini-blender to facilitate.).
Using a pastry brush, apply the butter mixture lightly and evenly on each corn cob.
Grill for about 2 minutes all around, until cooked but not burnt. Keep basting on the butter mixture to the corn as it cooks.
Serve immediately.
*NOTE: To cook on stop top, bring water to boil.
Carefully add the corn to the water.
Reduce heat and cover and let corn sit in water for about 5 minutes. Drain. Baste on the butter mixture.