Greek-Style Cannellini and Vegetables
PaulaG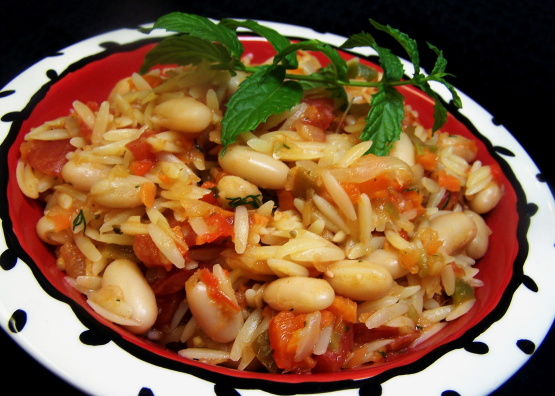 This can serve as a one-dish meal. I'm posting for Zaar World Tour. The recipe is from a Moosewood cookbook.

This was absolutely delicious! My only complaint was that for me, there was not enough tomato flavor. Next time I make this, I'll probably use a 28oz can of diced tomatoes. Oh, I also didn't have mint, and used dried herbs and I thought it turned out very well. My non-vegan friends thought it was great as well. This would work well as a main dish or a side dish.
Cook the orzo according to package directions until al dente (about 8 minutes in boiling water), and drain. Stir in 1 Tbsp olive oil.
Sauté the garlic and onions in 2 Tbsp oil in large skillet.
Add the carrots and bell peppers to the onions and stir.
Stir the diced zucchini into the skillet of vegetables.
Add the mint, dill and marjoram.
Gently stir in the beans and tomatoes.
Simmer for several minutes, stirring occasionally.
When the beans and vegetables are hot, add the orzo.
Season with salt and pepper to taste.