Prep 15 mins
Cook 10 mins

This is served at our neighborhood Greek restaurant as soon as you sit down at the table. I've tried my best to duplicate it. Had to figure it out as DD wants it everytime she comes home to visit....and the restaurant is closed during holiday when she is here!! Measurements are estimated, as I always just eyeball the ingredients. More oil is always better....more juice for the bread! :)
1⁄2 cup feta cheese, crumbled
1⁄4 cup kalamata olive, pitted and diced (add more if you love them)
1⁄4 cup garlic-infused extra-virgin olive oil (the type for dipping)
2 slices pita bread
Directions
Combine the feta cheese and the olives.
Drizzle the garlic infused oil over the mix, until it looks juicy and perfect for dipping your bread into.
Spray a skillet with olive oil baking spray, or pour enough olive oil in the skillet to just coat the bottom. Heat over medium-high heat. Warm your pita bread in the skillet. Remove, and cut into quarters. Repeat with the other piece of pita bread. (When desperate, I've seen this eaten with yeast rolls. lol).
Serve the bread warm from the skillet with the feta cheese mix. The feta cheese/olive mix should be at room temperature or just slightly warmer. You don't want the olive oil congealed, so if made ahead of time, zap it at 50% in the microwave to knock the chill off of it. It's almost like Greek crostini!
Reviews
Most Helpful
This was so easy and delicious it was stupid! Took almost no time, absolutely killer. I substituted Meyer Lemon olive oil which, to our taste, blended perfectly into a Greek dish.

You know how it is. Some things just make you say oooooooooooh and then aaaaaaaaah and your mouth just hangs open...salivating and wanting more. Made for Almost 5 Recipe Tag.

Delicious, and addictive, too! I used garlic-and-herb-flavored feta crumbs and lots of kalamata olives. This takes seconds to put together. I warmed the pita in the oven for about 3 minutes, and it was perfect. Thanks for sharing this wonderful recipe!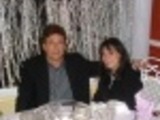 Summer Central