GaylaJ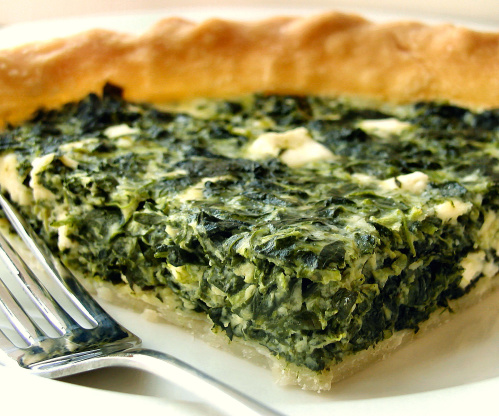 This is a tasty quiche that combines frozen spinach, feta, and Romano cheeses into a beautiful dish that you will be proud to serve. The hint of nutmeg gives it that authentic Greek touch.

Great quiche! I sauteed half an onion and some garlic and added that to the mixture. It did take a bit longer than the time listed, but totally worth the wait. Thanks for posting!
Line a 9-inch quiche or pie dish with pastry; trim excess pastry around edges (you can decorate the edges with fluting or crimping or anything you want). Prick bottom and sides of pastry with a fork. Bake at 400 degrees F for 3 minutes; remove from oven, and prick with a fork. Bake for 5 more minutes.
Cook spinach according to package directions, omitting salt. Drain spinach thoroughly, pressing out excess water.
Combine spinach and remaining ingredients in a mixing bowl; mix well.
Pour mixture into prepared pastry shell. Bake at 350 degrees F for 30--35 minutes, or until center is set. Let stand 10 minutes before serving.