Derf2440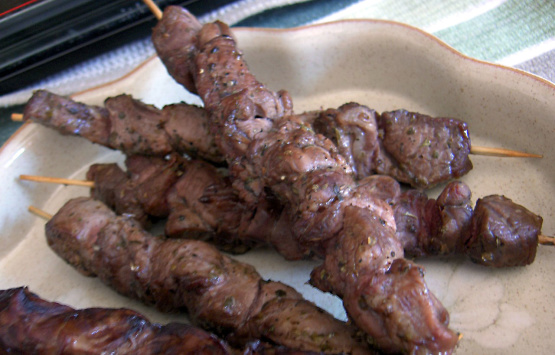 This is posted in response to a request for "skewer" recipes. A real coincidence as this was being prepared on the food network by Nick Makris from Nick's Diner in Regina Sask - it looked SO GOOD I just had to post it. Use pork or lamb - serving with pita bread is optional but tzatziki is a must! Prep time includes a minimum of 2 hours for marinating.

Excellent flavor ~ made the best gyros we've ever had. I was a little concerned about the mint as I've never used it before in a marinade, but it didn't over power at all. Served with pita pockets, feta and tzatziki!
Combine olive oil, red wine vinegar, garlic, onion, oregano, parsley, mint and black pepper in a bowl& mix well.
Add meat, toss to coat, cover and refrigerate; marinate for a minimum of 2 hours but overnight for best results.
If using wooden skewers soak them in water overnight or for at least 2 hours.
Preheat the grill to medium high.
Thread meat evenly onto 4 skewers& season with salt and pepper.
Grill skewers 4 to 5 minutes per side for medium or cook a few minutes longer if you prefer well done (6 to 7 minutes).
Serve with tzatziki sauce and pita bread.