Parsley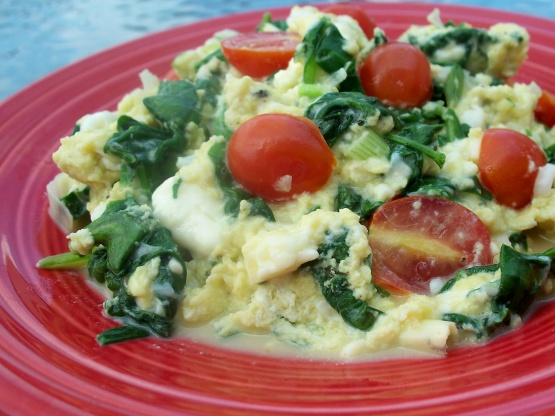 Adapted from Mollie Katzen's Sunlight Cafe Cookboook. Lots of Greek flavors here! Try to use fresh herbs! Serve with some nice toasted whole grain bread and fresh fruit.

Made as written except I added a fresh basil garnish for the final touch before serving. This was our main meal last week served with crusty bread and leftover rice. Easy! Used fresh mint from our garden, too! Reviewed for NA*ME tag/June. Thanks, Sharon!
Break the eggs into a medium bowl and beat with a whisk until smooth. Stir in the herbs and scallion, and add in a good, amount of black pepper.
Place a 10-inch sauté pan or skillet over medium heat. After 1-2 minutes, add the olive oil, wait about 10 seconds, then swirl to coat the pan. Turn the heat up to medium-high, add the spinach, and sauté for 2-3 minutes, or until the spinach has wilted and turned a deep green.
With the heat at medium-high, pour the eggs into the pan, scrambling them slowly As eggs begin to set, push the curds from the bottom to one side, allowing uncooked egg to flow into the pan. The spinach will blend into the eggs.
When the eggs are almost set but still slightly wet, sprinkle in the crumbled feta. Continue scrambling slowly, allowing the cheese to melt slightly into the eggs. After a minute, stir in the tomatoes.
Cook for just a few seconds longer, or until the eggs are done to your liking. Serve immediately. Enjoy!