Sarah_Jayne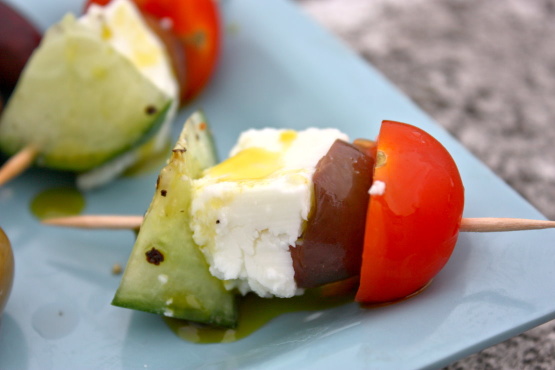 A delightful way to serve all the flavors of a greek salad

What a lovely little appetizer these make. I added a little red wine vinegar to the drizzle, and used a mixture of black and green kalamatas. (I didn't even know they made green ones until I saw them at the olive bar. They're good!) I made a big batch, and have been snacking on them for a few days now. Wonderful recipe.
Cut four 1/2-inch-thick diagonal slices from the cucumber and then quarter each slice. Set the cucumber pieces on a large serving platter and season with 1/4 teaspoons each salt and pepper.
Top each with a piece of feta and then an olive half. Stab a toothpick through a tomato half and then thread through one of the cucumber stacks, pushing the toothpick down to secure it. Drizzle with the olive oil, sprinkle with some more black pepper, and serve.