Nimz1466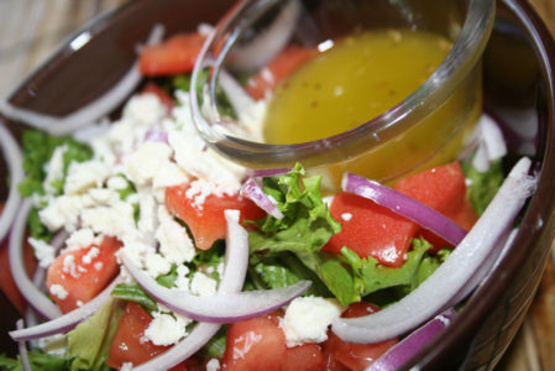 This recipes is from the South Beach Diet Cookbook by Arthur Agatston. This is for phase 1.

I LOVE this salad. I, too, got it from the SBD book. It has become a lunch staple for me. I didn't much care for the dressing as it was so I experimented a little. I added a few dashes of balsamic vinegar and tossed it into the salad with the rest of the mixture. I am a huge fan of Olive Garden's salad (never go there anymore b/c so many carbs), and that is what it tastes like to me. Instead of feta, I used shredded low fat parmesan. Very yummy! Also, there is no measurement for the lemon juice on this recipe but it is supposed to be 2 tablespoons of lemon juice. FABULOUS SALAD! I make this at least 2 times a week for lunch!
Combine the lettuce, cucumber, tomato, onion and cheese in a large bowl.
Whisk together the oil, lemon juice, oregano, and salt in a small bowl.
Pour over the lettuce mixture and toss until coated.