Greek Salad Pita Sandwiches
Ms B.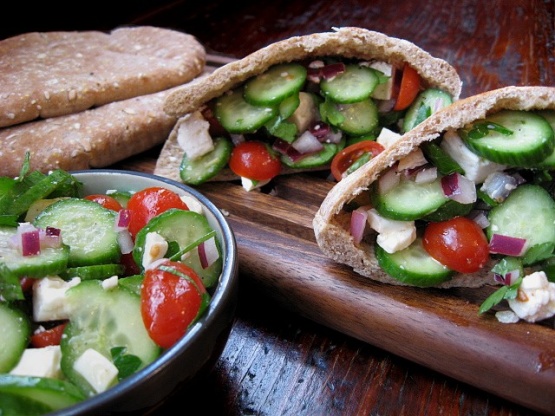 This is from Bon Appetit Nov. 2007.

I made this fresh tasting sandwich today for lunch. It required a bit of prep, but I was very pleased with the end result. The salad is flavorful and healthy. I used cherry tomatoes and fresh parsley from my garden. I added a bit more salt and pepper to the finished salad, on top of what I had already added to the dressing. I did not alter this recipe at all and felt that it needed no modifications. I would make this again. Thanks!
Whisk olive oil and red wine vinegar in a large bowl. Season dressing with salt and pepper. Mix tomatoes, cucumber, bell pepper, red onion, radishes and parley into the dressing. Stir in feta cheese. (Salad can be made 2 days ahead -- cover and chill.).
Using slotted spoon, transfer salad mixture to pita bread halves. Serve sandwiches immediately.