Another Greek recipe for the Zaar World Tour. This is from Better Homes and Gardens. This is fast and easy.
Directions
In a small bowl stir together feta cheese, sour cream, parsley, dried tomatoes, garlic, and pepper. Cover and chill for 2 to 24 hours. (Cook time reflects refrigeration time).
Using a sharp knife, trim the ends from cucumber; discard ends. Horizontally slice the cucumbers into slices. Spoon 1-1/2 teaspoons cheese mixture onto each cucumber slice. Arrange cucumber slices on a serving platter.
In a small bowl combine basil and olives. Spoon some of the mixture onto each cucumber slice.
Most Helpful
These made an interesting appetizer for a Christmas party. Most people were intrigued when I told them what it was called and everyone tried at least one. We all thought the amt of topping required to almost cover the cucumber (or at least make it look pretty) made it was too strong and salty. So, I would make these again but put them on baby cucumbers (I used burpless cucumbers this time). Thanks for posting!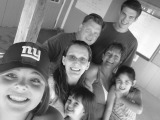 These make for a great presentation and are light and delicious. I used Greek yogurt in place of the sour cream and I served half on the cucumbers as stated and the other half in hollowed out cherry tomatoes. They were great appetizers for the Greek Easter!
Yum, these especially pleased the vegetarians in the family... and they were easy to make too. Some guests arrived rather earlier than planned and one offered to help with assembling these while I was busy with several other dishes. I was pleased that she did, but the perfectionist in me cringed when I saw the presentation. I managed to keep my trap shut and she was all smiles as she took it to the waiting masses... shortly afterwards these were all gone and obviously its only me obsessed with putting things perfectly on a plate LOL. Everyone enquired about the filling (it was the sun dried tomatoes that had them stumped) and said that they liked it. Please see my rating system, a wonderful 4 stars - Thanks !!!