PaulaG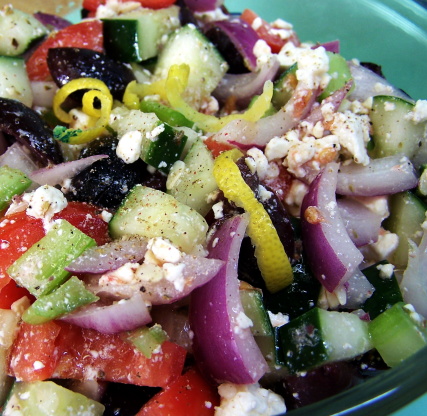 Until we went to Greece, we always made Greek salad with lettuce. Now we know this is the way they do it in Greece, and it's so much better (not to mention simple)! The amounts used are rough guides, you can adjust them to your taste.

Top Review by Bergy
Excellent Greek Salad. I agree I like it without the letttuce. I found your instructions a bit vague I had no problem following them but I have made many Greek salads but for some one new to cooking I think they would be difficult to follow. I believe your intent is to allow each of us to match the recipe to suit our taste buds, right? I found that vinegar & lemon would be too strong so I used only lemon juice. Next time I will add 2 anchovie fillets. Thanks, Friedel, the salad was enjoyed by all
Start by chopping up the cucumber, tomatoes, red onion and celery.
Make sure they are nice and chunky.
Throw in a large bowl, adding as many olives as you care for.
Roughly slice the feta cheese and mix that in too.
The dressing is roughly half olive oil, one quarter vinegar and one quarter lemon juice with pepper added to taste.
Mix up as much as you feel you need, pour over the salad and enjoy.