Greek Roasted Tilapia Fillets (Low Fat)
loof751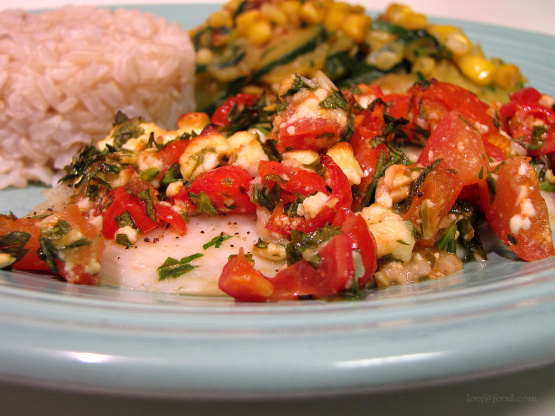 Tilapia has a really great, extremely subtle flavor and it doesn't dry out as easily as many other varieties of fish. This tilapia is topped with a mixture of tomatoes, feta and fresh parsley and then baked. You'll get a large portion for few calories. Just be sure to season the fillets directly with salt. That will really make a difference. From The Most Decadent Diet Ever cookbook by Devin Alexander, author of The Biggest Loser Cookbook.

We really enjoyed this thanks Crafty. Tilapia isn't available in Aus, so I used some emperor fillets we had in the freezer. They were good in the sauce. I had a bit of onion in the fridge so added that in but otherwise stuck to your very simple recipe. Thanks for posting.
Preheat the oven to 400°F.
Lightly mist a medium ovenproof baking dish with spray.
Mix the garlic, olive oil, parsley, tomatoes, and feta in a medium bowl.
Lightly mist both sides of the tilapia fillets with spray, and then season both sides with salt and pepper to taste. Lay the fillets side by side, barely touching, in the prepared baking dish. Top evenly with the tomato mixture. Bake for 13 to 17 minutes, or until the tilapia flakes and is no longer translucent. Serve immediately.