ImPat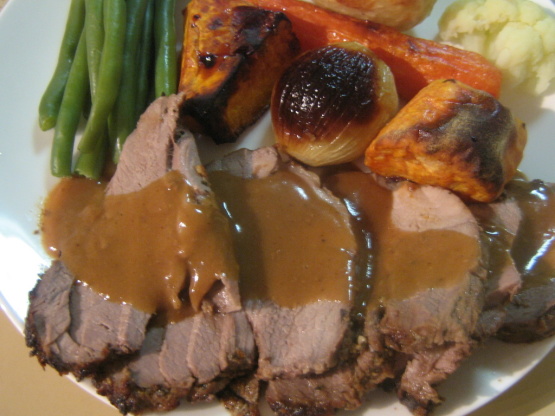 Simple but delicious. You may use dried herbs if desired- substitute 1/3 of the amount called for fresh (just make sure the dried herbs are not old).

Top Review by ImPat
I deboned a leg of lamb to get 1lb 8.5oz of meat which I trussed up tightly and marinated for 30 hours and because we like our lamb well done (well the DH does though I prefer a little pink) and I was able to achieve this as the outer parts were well done but the center slices had just a hint of pink. I baked it at 175C fan forced oven for 1 1/2 hours, with the meat thermometer registering between 155F and 170F depending at which point I put it at. The smell when initially cooking was garlic euphoria, I did use the full quantity of the marinade and 6 huge cloves (about 5 teaspoons). The gravy from the roast was a surprise in that the garlic did not come out in it but was smooth and creamy. Thank you Sue L, made Aussie/Nz Recipe Swap - July 2009.
Remove bone and fell from lamb, if necessary.
Piece together and tie with kitchen twine.
Mix remaining ingredients and pour over lamb, coating it thoroughly (make additional marinade if needed).
Marinate lamb 6 hours or preferably, overnight.
Drain marinade and allow lamb to warm (remove a lot of the chill).
Place lamb (along with root vegetables, if desired) in roasting pan and roast at 450F for approximately 15 minutes, then reduce oven heat to 350F and continue roasting until an instant-read thermometer reads 145-150F for medium rare, or 160F+ for well done, allowing that the meat will raise about 5 degrees as it rests after cooking.
Start checking your meat temp with the instant read thermometer at about 20-25 minutes per pound.
Allow the roast to rest undisturbed for about 25 minutes before carving.
Reduce any drippings, if desired, to serve with the lamb.