Greek Rice Pudding (Rizogalo)
PaulaG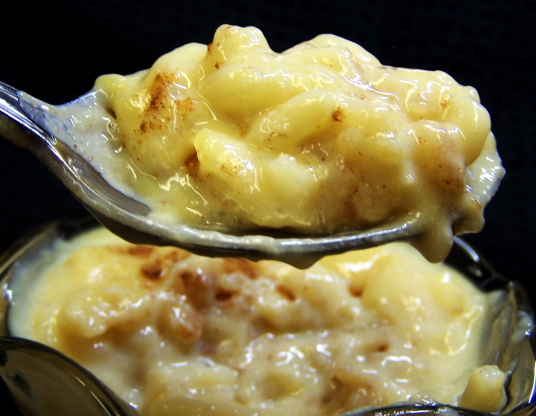 Well, I made this twice! First time I made it exactly as stated and it was good. However, I felt like something (FOR MY TASTES :-) ) was missing. So the next day I made it again using a bit of vanilla and a tad bit more sugar. HEAVEN! This is a marvelous recipe evelyn...I am very thankful that I found it. The lemon peel really adds such a marvelous flavor to the pudding, and I love the cinnamon sprinkled on top :-) thanks for this recipe!!!!! it'sa keepa!
Place milk, sugar and lemon peel (just the peel - none of the pith) in a heavy saucepan. Bring mixture to a boil, stirring constantly until sugar melts. Reduce heat to low and add the rice.
Cover the pan and cook until the rice/milk mixture has gone thick and creamy (about 30-35 minutes).
Turn off heat. Remove lemon peel and discard.
Whisk together egg yolks with corn flour.
Quickly whisk egg yolks into the rice mixture, stirring well. (If you want to, at this point you can also add a 1/2 tsp of vanilla extract). Keep stirring to make sure yolks are incorporated and won't curdle.
Spoon pudding into four serving dishes and cool. Top with a sprinkling of cinnamon.