Peter J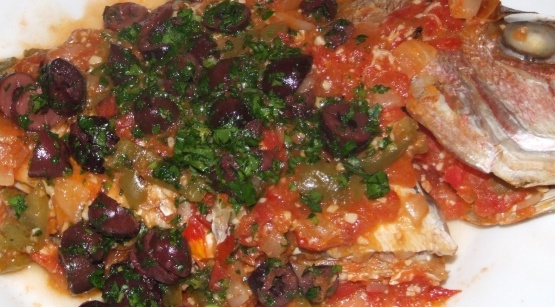 For the 'zaar World Tour 2005

This was something else! I really liked the combination of ingredients and this is a recipe that really proves the best dishes don't leave an empty tin in sight. Everything reduced together so well and combined with a whole fresh snapper everything was just so perfect! As well as topping with the tomato mixture I also placed some inside the snapper.
Saute onion, pepper, and garlic in hot oil. Add tomatoes; simmer 15 minutes.
Brush a shallow baking dish with olive oil and place fish in dish. Pour wine over top.
Pour hot tomato mixture over fish.
Dot with a little butter.
Bake at 350F for 45 minutes to 1 hour.
Combine parsley, basil and olives and sprinkle over fish.