Prep 10 mins
Cook 45 mins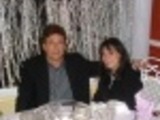 These potatoes are loaded with typical Greek flavorings that make a delicious side dish to any meal, Greek or otherwise!
Directions
Preheat oven to 400 degrees. Combine the oil, basil, oregano, garlic powder, and salt in a 13x9-inch roasting pan. Place in the oven for 5 minutes.
Add the cubed potatoes, tossing to coat with the herb/oil mixture. Bake for 40 minutes, turning occasionally, until the potatoes are tender inside and crisp outside. Drizzle with the lemon juice, grate a bit of lemon peel over the potatoes, and serve immediately.
Reviews
Most Helpful
Oompa! Jackie your description of these potatoes was spot on in that they are loaded with Greek flavors and turn out tender yet very nicely browned. We really like the way the lemon and herbs come together to keep these potatoes from being anything but boring. Thanks for the post.

Wonderful potatoes JackieOhNo. We really enjoyed these, crispy herbs taters. They were perfect served with Greek pork chops. Made for CQ3 - Greece.
Such a nice side for a Greek meal. They are simple and good. Thanks for sharing. Made for CQ3 - Greece.