Greek Pizza on Phyllo With Feta and Tomatoes
Pellerin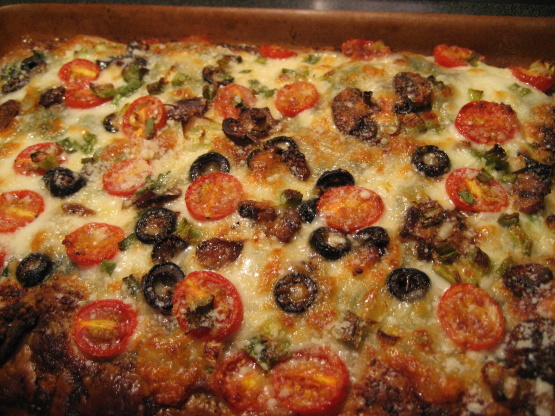 Adapted from a recipe by Joanne Wier, this is an astonishingly wonderful change-of-pace for the pizza heads among us. Rich, but with a distinctly Greek "flava" this beautiful dish will make your evening. Wonderful to serve to company - very pretty, unusual, and TASTY! ADDENDUM: I've tried several great variations on this...using puff pastry instead of phyllo, substituting cream cheese for the mozzarella, adding some cilantro pesto to the cheese combo, and topping with sauteed onions, zucchini, yellow squash, and using chopped GREEN olives instead of black. Scrumptious! Use your imagination and run amok!

This was very, very good! My husband and I made it for our six month anniversary. As noted, it IS very rich, but very good. The only things I'd change would be to slightly increase the amount of spices and use a few more tomato slices. Thanks for a wonderful recipe!!!!
Preheat oven to 400°. Melt butter/oil on medium/low heat in small saucepan. Cover phyllo with barely dampened kitchen towel (not paper).
In a bowl, combine cheeses, oregano, pepper flakes, salt, and pepper. Mix well.
Brush baking sheet with oil/butter mixture. Place 1 sheet phyllo in center. Brush with butter-oil. Add 2nd sheet of phyllo, brush with oil. Add 3rd sheet, but do NOT brush with oil. Just sprinkle a LITTLE (i.e. ~2 TBS) of the cheese mixture on top. Add another layer of phyllo. Repeat, until all phyllo is used.
Brush top layer with butter/oil. Sprinkle with ½ of the remaining cheese. Sprinkle with the scallions, then the tomatoes, evenly over the top of the pizza, leaving a 1-inch border around edge. Season the tomatoes with salt, and sprinkle the remaining cheese on top. Trim the edges if desired.
Bake on the TOP shelf of the oven until cheese is melted and phyllo is golden and crisp on the edges; 20-30 minutes. Good with a Pinôt Gris, Pinôt Grigio. Sangiovese or Chianti wine.