CabinKat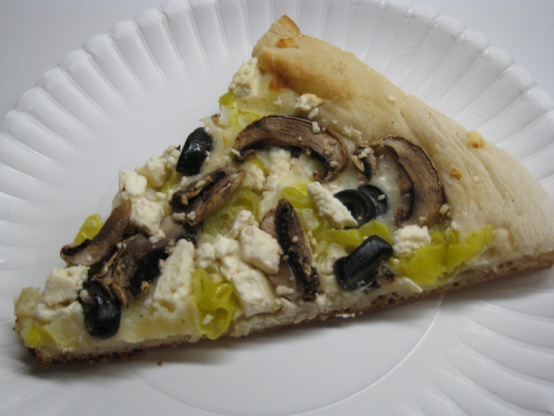 I love Feta Cheese on Pizza!!!! This recipe makes enough sauce for 1 13" pizzas.

Delicious pizza! Better than a restaurant! I used homemade pizza dough and my pizza stone to cook it. I opted for canned artechoke hearts instead of pepperoncinis. Also... extra mozzarella and feta cheese... sooo yummy!! Thank you Gaelige Coinnaigh!
Puree ingredients for garlic sauce in a blender and store in a small covered jar.
Top dough crust with garlic sauce, mozzarella cheese, feta cheese, olives, pepperoncini, onion, mushrooms, and oregano. Drizzle with oil.
Bake in preheated 500° F oven on pizza stone for 8-10 minutes or until crust is golden brown and cheese is bubbly.
Remove from oven and cool on a wire rack for 2-3 minutes before cutting into wedges and serving.