Greek Phyllo-Wrapped Chicken
ImPat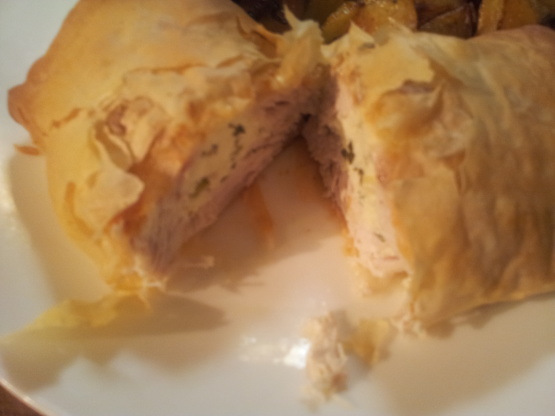 This is a beautiful chicken dish that can be made for both week nights and company.

Top Review by ImPat
The first time I went to make this I couldn't find the feta cheese I had bought the day before and this time as the hot weather had taken its toll on our parsley and I wasn't going to use mint as we don't care for it I used finely chopped baby spinach and as I was only filling 3 small breasts I ended up with some filling left over so I used up extra filo pastry that I had and made little triangles which I will cook up tomorrow as a snack dish but we all loved the chicken and to my surprise the DM did not pick out the spinach and actually ate and that gets bonus points from me any day :lol: thank you Deantini, made for Went Tom Market tag game.
Heat oven to 350 F.
In bowl, mash together feta cheese, egg yolks and garlic. Mix in onions, parsley, mint and pepper.
Cut chicken breast in half almost but not all the way through; open like book. Spread feta mixture evenly on 1 half of each breast; fold breast over to enclose.
Place 1 sheet of phyllo on work surface, keeping remainder covered with damp towel to prevent drying out. Brush lightly with some of the butter; top with second sheet and brush lightly with butter. Centre 1 breast on phyllo about 2 inches (5 cm) from short edge; fold long sides over chicken and roll up. Repeat with remaining chicken.
Place in lightly greased baking dish; brush with remaining butter. (Make-ahead: Cover and refrigerate for up to 8 hours.).
Bake in 350°F (180°C) oven until crisp and golden, about 45 minutes. Serve with lemon wedges.