BarbryT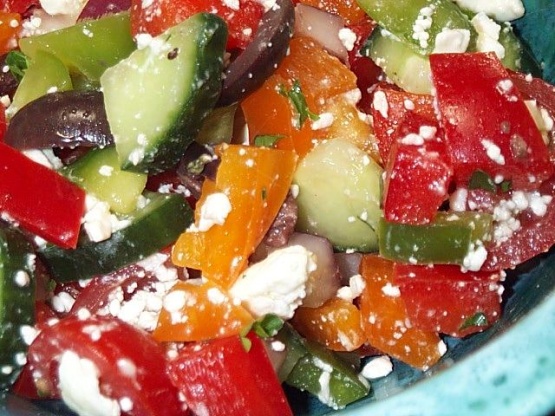 My DBF made this for me the night of our first date. I know, I know... awwww. OK, moving on... He served it with baked brie and chardonnay. It was so good I kept coming back! We now eat it on special occassions. Sometimes I will make it, but I still contend that it isn't as good as when he makes it. It can be served immediately after preparation, but letting it sit an hour or so allows the flavors to blend. Hope this brings happy memories for you too!

I made this salad tonight as a side to dinner. I loved it! I used fresh cukes and tomatoes from my garden. I easily halved all of the ingredients to serve DH and myself. I assumed that the recipe wanted 12 oz of cherry tomatoes, so when I halved the recipe, I used 6 oz. I subbed shallots for red onion as I realized I didn't have any red onions after I started making the dish. I let the salad marinate for 2 hours prior to serving. DH commented that he does not usually like raw bell peppers, but this recipe was an exception. The dressing flavor was fantastic! I would definitely make this again. Thanks!
Salad

2

large red bell peppers, cubed

2

large green bell peppers, cubed

2

large yellow bell peppers, cubed

1

medium red onion, diced

12

cherry tomatoes, quartered

1

cucumber, cut in spears
2⁄3 cup feta cheese, crumbled
1⁄2 cup kalamata olive, pitted and sliced
1⁄4 cup fresh parsley, snipped

Dressing

1

cup extra virgin olive oil
1⁄3 cup red wine vinegar
1⁄2 teaspoon thyme
1⁄2 teaspoon basil
1⁄2 teaspoon rosemary

3

garlic cloves, minced
1⁄2 teaspoon salt
1⁄8 teaspoon cayenne pepper

1

tablespoon Dijon mustard
Combine peppers, onion, cucumber, and tomatoes in a large bowl.
In a medium bowl, whisk together oil, vinegar, thyme, basil, rosemary, garlic, salt, and cayenne. Add mustard and whisk to combine. Pour over vegetables.
If desired, cover with plastic wrap and refrigerate for up to two hours.
Sprinkle with cheese, olives, and parsley. Toss and serve.