flower7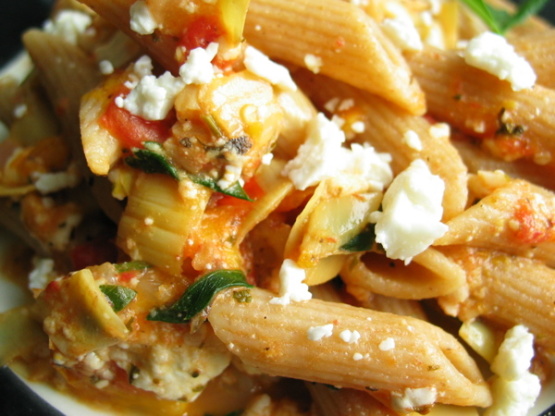 Posted for 2006 Zaar World Tour - Greece. This recipe was adapted from a cooking website's newsletter.
Fabulous! Made with whole wheat pasta last week, and it has already been requested for this week again!
In a large pot bring salted water to a boil. Add penne pasta and cook until al dente, drain and set aside.
Using a large skillet and over medium-high heat melt butter. Add onion and garlic to melted butter and cook for 2 minutes. Stirring occasionally, add chicken and continue cooking until golden brown, approximately 5-6 minutes.
Reduce heat to medium-low, begin adding drained and chopped artichoke hearts, chopped tomato, feta cheese, fresh parsley, lemon juice, dried oregano, and drained penne pasta to the chicken. Cook until heated through, approximately 2-3 minutes. Season with salt and ground black pepper to taste, serve warm.