Greek Pasta With Chickpeas and Garlic Lemon Sauce (Makaronia Me
Satyne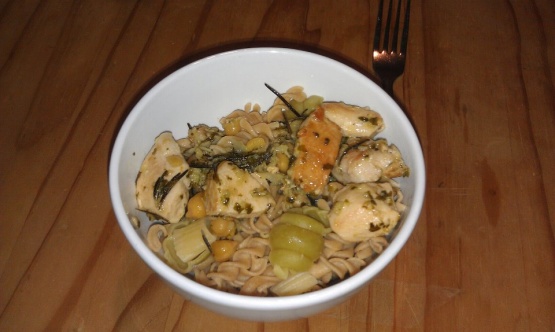 Our little community in Maine occasionally does ethnic-themed potluck dinners. Found this on an ethnic foods website and made it for Greek Night (figuring everyone else would do the usual spanakopita, mousaka, etc.) The fresh rosemary really makes this dish -- you might even want to up the amount a bit!
Cook garlic in olive oil and butter over medium heat until garlic is golden.
Add rosemary, stir through, then add broth and cook until liquid is reduced by half.
Add spinach, and lemon juice.
Cook over medium heat until the sauce is almost syrupy.
Add chickpeas and set aside.
Cook pasta as directed.
Toss pasta with sauce.
Season with cayenne, salt and pepper and serve.