Prep 15 mins
Cook 10 mins

This is a wonderful mediterranian pasta salad. It is very tasty and also very healthy, too, cause it uses no cream or mayonnaise. You can make it even healthier by using whole wheat pasta instead of regular. This is great served with some oven-warm bread or just eaten plain.
Directions
Cook pasta according to package instructions until al dente (firm to the bite). In the last five minutes of cooking add spinach.
For the sauce combine kefir, oil, garlic, dill and lemon juice in a bowl. Season with salt and pepper to taste.
In a big bowl combine sauce, drained pasta and spinach, tomatoes, olives and onion.
Season again to taste.
Let cool and serve or eat warm. Enjoy!
Reviews
Most Helpful
This was a nice twist on the typical Greek pasta salads, which I am really fond of. I doubled the ingredients and made exactly as posted, using kefir (which I always have on hand), except I used halved grape tomatoes and kalamata olives. I found that when the hot ingredients were added to the dressing, it really thinned out the dressing and made it kind of soupy. I ended up adding about 1/2 cup of feta cheese, which added nice flavor and substance. I had tasted the dressing prior to adding the hot ingredients and found it very bright and flavorful. I really liked the addition of the spinach, and will make this again.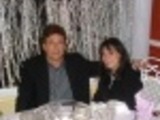 This salad is really good! I made exactly as directed, tasted it and decided to add shredded Parmigiano-Reggiano for a little more flavor. The slight saltiness of the cheese really brightened up the flavors. The lemon and dill is fragrant and tastes summery fresh. The kefir was such a nice change from the usual "italian dressing" type salads of which I'm not a fan of. And it was slightly creamy without being mayo-based. Absolutely lovely! <br/><br/>One thing to note: It's really not a make-ahead salad. I made it the day ahead for my party and unfortunately the dressing completely absorbed into the pasta and the flavor became bland. I livened it back up with another batch of fresh dressing and that helped, but it was so good the first time around. Also the spinach became more olive-green in color and it just didn't look as fresh. So... make it when you want to eat it and you'll be happy with the results. Thanks for a wonderful recipe. I'll make again for sure.

This is a lovely greek pasta salad. It is easy to prepare and has a very nice flavor. Liked the use of pasta with the flavor of a traditional Greek salad.