loof751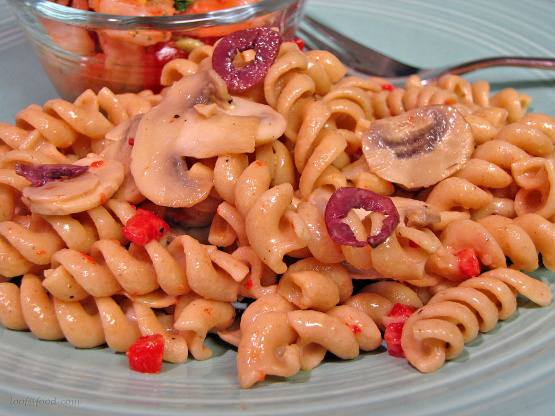 This recipe was published in Southern Living Magazine. Note - this recipe requires advance chill time, which is not included in the times indicated below.

This dish was served as part of a Greek buffet for a party and it was one of the surprise hits! Almost everyone asked for the recipe. It was so simple to make. Thanks for sharing a good recipe.
Heat 2 tbsp olive oil over medium heat in large skillet. Add sliced mushrooms and shallots, and saute over medium high heat for 7 - 8 minutes, or until tender. Remove from heat.
In a large bowl, whisk together the remaining 4 tbsp oil, juice, mayonnaise, and seasoning, blending well. Add the pasta and mushroom mixture, the olives, and pimiento. Toss to coat.
Cover and chill 8 hours before serving to incorporate flavors throughout.