Stacky5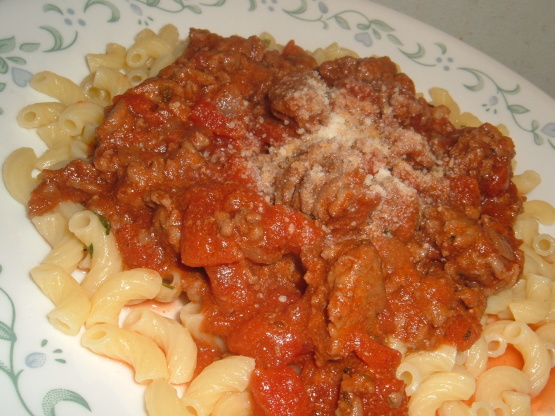 Nice twist to a simple pasta dish. So easy! I can see doing this for a big crowd with a great bread, huge salad and grilled veges. I had this last night at a friend's. She thinks she got it out of a fairly recent issue of Bon Appetit, but can't verify because she hand wrote it on an envelope.

We really liked this. It was a good mix of sweet (from the cinnamon & cloves) along with a little heat from the cayenne pepper. Very tasty. I think next time, I'll try a little sweeter wine, just for our own preference. All in all, it was a very easy recipe to make and 3 out of 4 kids gave it a thumbs up (and you can add my own thumbs up to that statistic...) Thank you for sharing!
Heat oil in heavy large pot over high heat.
Add meat and onions and saute until brown and season with salt and pepper.
Reduce heat to medium and add cinnamon, cayenne and cloves and saute 5 minutes.
Add wine, tomatoes and tomato sauce and simmer until thick.
Better if it sits overnight and is rewarmed.
Serve over cooked pasta.