racrgal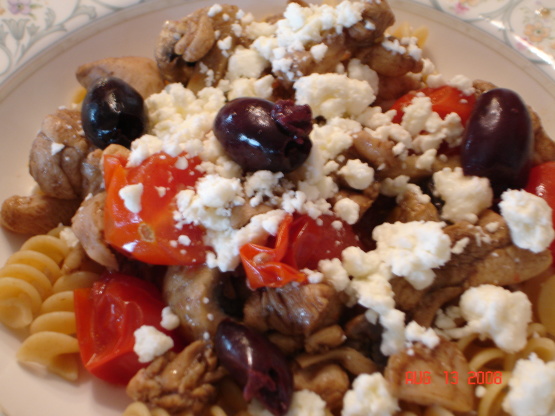 This pasta dish features chicken and greek flavors.

I loved that this recipe had a simple list of some of my favorite ingredients and was so easy to prepare. I'm on my own tonight and this was a perfect dinner for me. Plus, I have leftovers to enjoy for lunch for the next couple of days. I used fresh tomatoes (last of the season) from my garden. I sauteed the chicken in a little bit of olive oil with the garlic and balsamic. I was a little worried since the recipe only called for 1 Tb of balsamic, that it would be a little dry. Not so! It was perfect as it was. The only modifications that I made was to chop the kalamatas because I like more even distribution and I sliced the mushrooms (baby bellas). I added a little salt and pepper, but not much because the feta was salty enough. The dish was really flavorful. I'm copying this down as a keeper. I'm just sorry I didn't try it sooner!
Cook pasta, according to package directions.
In a separate pan, cook chicken and garlic in balsamic vinegar.
When chicken is cooked thoroughly, add mushrooms and tomatoes to heat.
Mix cooked pasta, chicken, garlic and mushrooms.
Add olives and top with feta cheese.